Financial Advisory and Investment Services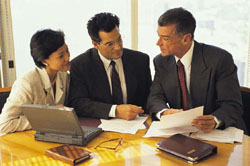 We provide planning strategies for clients desiring to reach certain financial goals by providing a customized financial plan to meet those individual objectives.  Our services include, but are not limited to:
401k Rollovers
We will assist in the rollover of your 401k employer sponsored retirement plan into a self-direct IRA.  Our services include identification of alternative IRA investments based upon your investment objectives and risk tolerance and the completion of paperwork to efficiently transfer your 401k funds to your new IRA.  
Retirement Planning 
We help you plan for retirement based on your anticipated income needs as well as reviewing portfolio rates of return and inflation. We will design an investment plan to provide the needed income while minimizing taxes so you may be able to keep more of what your earn.  This type of planning integrates financial planning with portfolio construction.
Ongoing Investment Reviews
We meet periodically with our clients to review investment performance and determine if portfolio changes are warranted to better align your investments with your goals.
Portfolio Construction
We will evaluate and recommend investment alternatives based upon desired risk, tax efficiency, relative performance and cost. Our recommendations may include bonds, stocks, IRAs, mutual funds, real estate investment trusts, annuities and life insurance.
College Planning
This includes both investing for college and financing college costs. We help with tax qualified college savings plans.
Retirement Plan Distributions
How you coordinate and take your retirement plan distributions can significantly impact your tax bill. Beneficiary designations can also impact your required minimum distributions. We'll help you explore your alternatives so you make informed decisions.
Estate Preservation
We will review your current estate plan or assist in creating one which best provides for your loved ones.  We will also provide advice and assistance to manage your assets to meet your objectives.
Death Benefit Claims
We have the experience to help you deal with the financial and related tax aspects of receiving life insurance, IRA and annuity proceeds from a departed loved one.  Our assistance will include preparation and filing of death benefit claim forms and the related reinvestment of the proceeds into investments based upon your needs and objectives. 
Insurance Analysis
We will assist in determining if you have the proper amount of life insurance to meet the cash needs of your family after an unexpected death.  We can also determine if long-term care and disability insurance is a cost-efficient means to accomplish your retirement goals.